Bali is a great holiday destination for the traveller who seeks to get away from their normal day-2-day lifestyle. Although it is a small island of Indonesia, It is filled with many things to rejuvenate the mind, body and soul. Whether your calling is for adventure, shopping, entertainment or just lazing out in the sun. Bali has plenty of amenities to cater even the demanding of travellers.
This blog is going to be split into two sections. The first is going to be focused 'no pun intended' on the photographic aspect of my trip. If you are a photo enthusiast you may find the first part interesting as it has some of the reasoning and explanation behind my images. If you're not a photographer, you may still learn a thing or two and if it starts to get too geeky, feel free to breeze through the text and just appreciate the images :)
The second part will be a general post for the prospective Bali visitor. The second part will comprise of tips that I have for the 1st time traveller. I'll talk about money exchange, things to be aware of and things your should experience.
Photographing Bali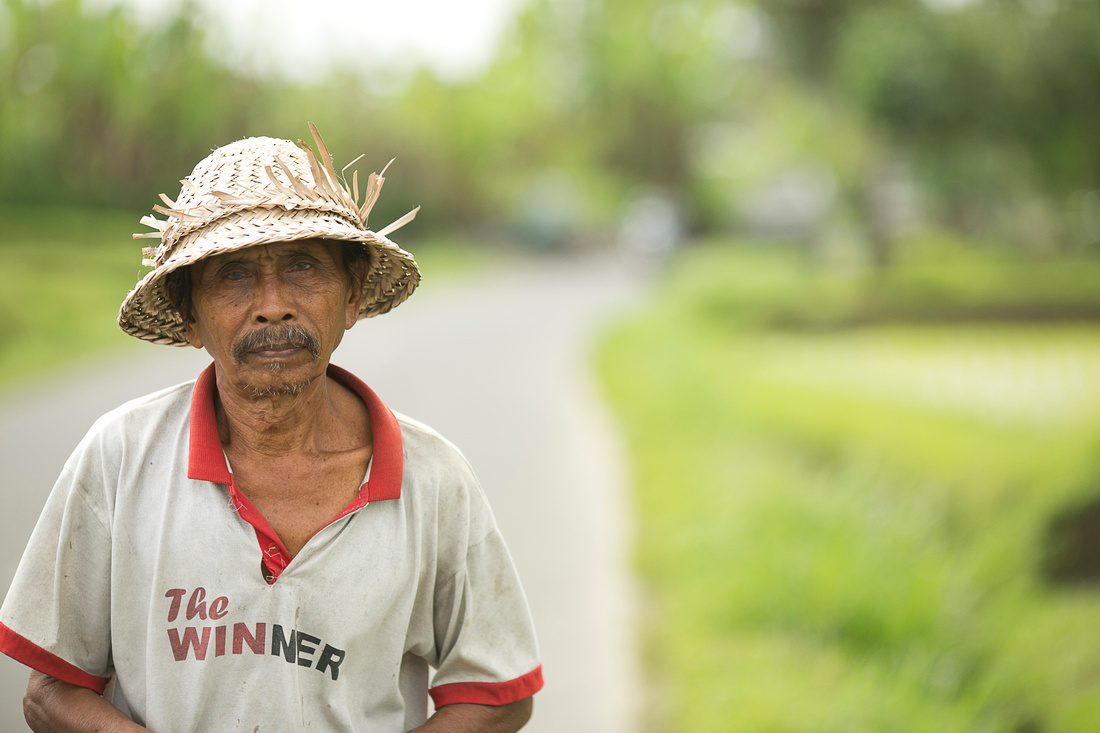 Whenever I think of travel, I instantly think of photo opportunities. I want to capture the people, culture, environment and the way the lights interacts to the foreign land. Bali in my opinion has plenty in terms of camera candy. The people are friendly, the culture is unique and the scenery is beautiful and the weather is great all year round.
My choice of camera body for this trip was my recently acquired Canon EOS 5D Mark III with a trio of high quality lenses. (24-105 F4 IS L Lens, 135mm F2 L Lens and 50mm 1.4 Lens.) This camera performed flawlessly for me. With its new high ISO performance and upgraded Autofocus system, it gave me the ability to keep shooting quality images in some of the most mundane and photo challenging places. I carried most of the equipment in a Tamrac Expedition 5 Backpack. A backpack was my choice of storage, When traversing though Bali, I found myself walking long distances, at times more than 30 minutes without rest and cycling up to 25km on a tours. The backpack provided me the comfortability and storage space I needed.
As a back up camera I had my Canon Powershot G10. It is a good idea to carry a small point and shoot camera to complement the DSLR. By having a smaller camera it allows me to get pictures in areas where I normally would not be practical with the DSLR. Point and shoot camera also comes in handy when you need a friendly stranger to take an image for you. Most people nowadays know how to operate a point and shoot camera. They are generally all similar in function. You can set it to Automatic, have the screen visible for the person and then just instruct them to point and shoot. Its that Simple :)
I also packed my 580EX Speedlite, although seldom used it, it does have the ability to 'save my photo backside in the most random occasions, ie when the subject is backlit or they are wearing head gear that is obscuring their faces.") I also packed my Carbon Fibre Manfrotto 190CXPRO3. The tripod didn't get used once. Although I'm not much of a scenery shooter, I always pack it just in case.
Below are some examples of the pictures I took on my trip:
I will admit there is NO greater sense of joy as a photographer, than hearing the compliance of a person who is willing to have their photograph taken in their own environment. This picture was taken in one of the silver smith shop+workshop. In this image I asked the store owner to stand in front of his show case. I wanted to capture an image with himself being prominent in the photograph alongside with his wares. By placing him in the centre of the image I was able to give equal importance to both the owner and the shop environment. I love the symmetry and harmony in this image, and the smile from the owner reflects his welcoming and friendly character.
For this image, I had my 50mm 1.4 on my 5D Mark III. I shot this image at F1.4 ISO 1000 with 1/640 of a shutter speed. The image was lit only with ambient lighting. I always try to shoot at wide aperture as oppose to increasing ISO. in my opinion, the lens was purchased for the larger apertures, so why not use it. Sure image quality is increased when the lens is stopped down, however, I always believe it won't be degraded as much as increasing ISO. Also when you are able to get the focus 'right on' the image is rewarded with a beautiful separation of the main subject and the background.
Here is a classic example where a Fill-Flash was necessary. When I walked about 25m through the narrow trench of the rice fields, I was facing towards the sun and the subject was back lit. I had on my camera my 580EXII and had that set to ETTL +1 and on High sync mode. ETTL is the flash's auto exposure setting. I used ETTL because I didn't have the luxury of time to fiddle with manual adjustments. I was blessed with the farmer being compliant with me, I didn't want to wear out his patience. ETTL does a good job most of the time, so took my chances with those favouring odds. I have it at +1 because its always to have too much power than to be underpowered. It is much easier to dial back down from a over flashed shot, than an under-flashed shot. The High Speed Sync mode was necessary because the background was very bright. Most cameras have a limited sync shutter speed of 1/250th of a second. Normally at 1/250th of a second I would require a smaller aperture to limit the amount of light entering the lens. This creates a disadvantage of excessive focus of the background (distractions away from the main subject) and also it puts lots of strain on the flash unit. Speed of 1/250th second is often too slow for a bright day when the aperture is near F2.8. By having High sync mode activated, it allows your camera to use its full range of shutter speeds. This mode comes as the expense of a weaker 'full-powered' flash.
I also couldn't get too close to the subject so I needed my longer 135mm F2 lens. By having a longer focal length lens. It allows me to frame the subject so it appears larger in the frame.
This image was shot at F2.5 1/3200sec at ISO 400

'Get in nice and close' is always great advice for photography and taking portraits is no exception. It is recommended to fill the frame with the subject. By filling the frame you maximise impact and minimise distraction. When focusing on people, a general rule is to always have the eyes in focus. This can be fine tuned when you manually select an appropriate Autofocus point on your camera. Some photographers use what I consider a lazier technique , where they focus first then they recompose the camera to suit the framing. Although this technique may be faster. It does leave itself for a shaky image if done poorly, due to the moving of the camera.
I was able to gain the acceptance of a photograph from this man, so there was no need for me to rush the camera. I had my 50mm 1.4 lens attached at the time. So i carefully recomposed the framing to suit, and set my AF point for his eyes. Once the lock was confirmed. I fired a few frames.
F2 1/1250th at ISO 500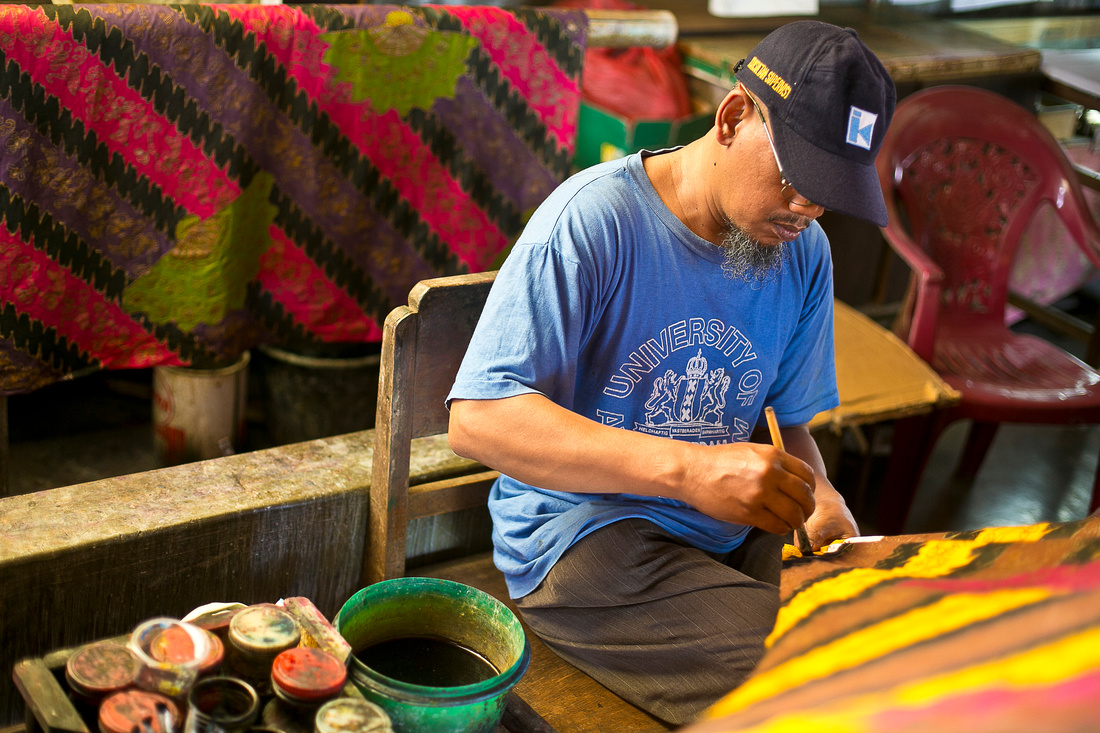 When capturing a portrait I always love having elements of the subject's lifestyle to help personalise the final image. Here I have an image of a man working on Batik (A Balinese type of cloth). I find it important to have the hands tell the story for the photograph. Always have the subject holding or doing what they do in the image. This helps convey what is actually happening in the photograph.
When framing this image, I noticed that the cloth was triangular shaped and that the tailor was holding onto it. This created a great leading shape into the image. So i was able to stand in front of the tailor and position the cloth so it leads the eye straight to the tailor. The main focus here is his hands. Alongside the image I have lots of colour and elements such as the paint and bottles on the side.
50mm 1.4
F2 1/50th ISO 400
Children are always a good subject to photograph. I find them always spontaneous and full of expression. I'm always respectful when it comes to photographing children because you never know if it may give off the wrong impression to those around you. Once you have the all clear from them and those around them. Then I'd suggest let the shutter button do the rest.
The children in Bali are very cute in my opinion, beware sometimes they may try and make you buy things from their stalls. I'm always happy to give them a small tip. maybe like 10 000 - 20 000 IDR for acceptance of a picture. That is only like AUD$2. We both benefit, they get a bit of reward, and I come out with great images.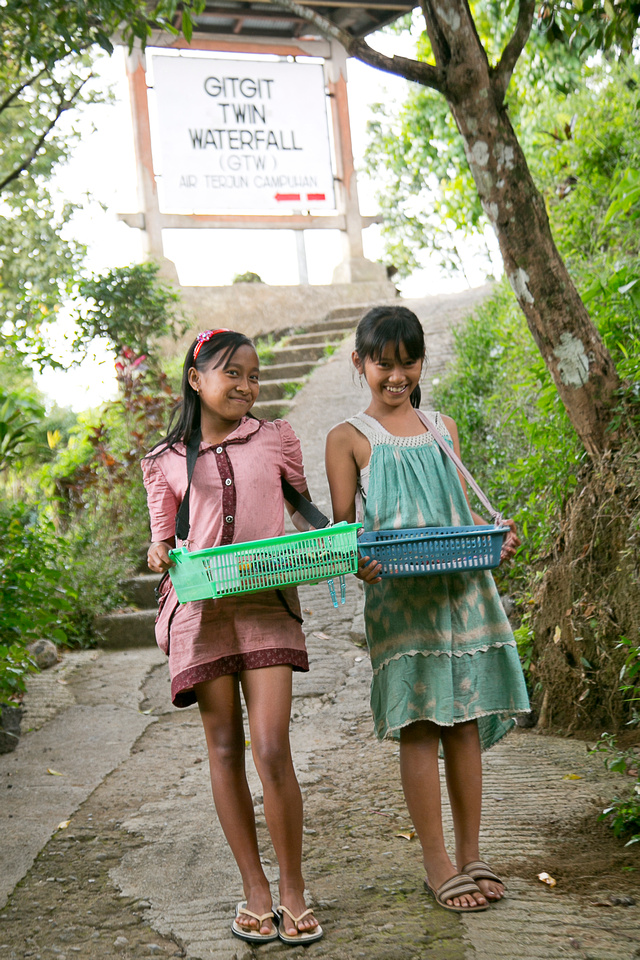 To view the photos go to:
http://henrylam.zenfolio.com/bali
Part 2: Tips for travelling to Bali
1: VISA
If you are travelling from Australia, be aware that VISA is required for entering and exiting Bali (2012). It cost me US$30 to enter and US$30 to exit Bali. The VISA can be purchased as you pass through Immigration at the airport. They have currency converters there so you need not have to worry about exchanging your money prior to entering Bali
2: Changing money to IDR at the Airport?
This was a big one for me. As when I always enter a foreign country, I always want to know the most efficient way to exchange my currency. As you collect your luggage from the airport. You will be greeted with a HALLWAY lined up with money Changers. I didn't count them, but I think there was about 20 stores adjacent to one another You will not miss it. There will be traders shouting, calling, trying to pull you into to change your money. It can be a little bit of a culture shock if you are not prepared for it. I'd be weary changing large sums of cash with these exchanges, because the airport can be crowded with people. I did change about AU$200 at first. Now coming to think about it, that was EXCESSIVE. If I had known, I would have only exchanged about AU$20. Just enough to comfortably get me on a taxi to my hotel in Kuta. The Taxi ride to KUTA was about AU$10 and the time can vary from 15 minutes to 45 minutes depending on the traffic. The rates are better outside of the airport.
3: Money Changing in Kuta
There are many money changers in Kuta. I was told from friendly local tour guides that there are good places and not so good places. The good places are either the banks, and the money changers with a 'building.' below is an photograph of a 'GOOD' money changer.
This exchange in somewhere near the middle of Jalan Legian (Main street of KUTA). You see what I mean by having a store front. This is a dedicated money exchange shop, it has a main door and its sole business is to exchange foreign currency. They will have offical monitors in the store and you can see them exchange the money, SLOWLY. By having a door behind you it also makes me as a traveller feel more safe with putting my money away.
Now for the not so good money exchangers. I'll refer them to 'RISKY' exchangers and should be AVOIDED. First take a look at the images below.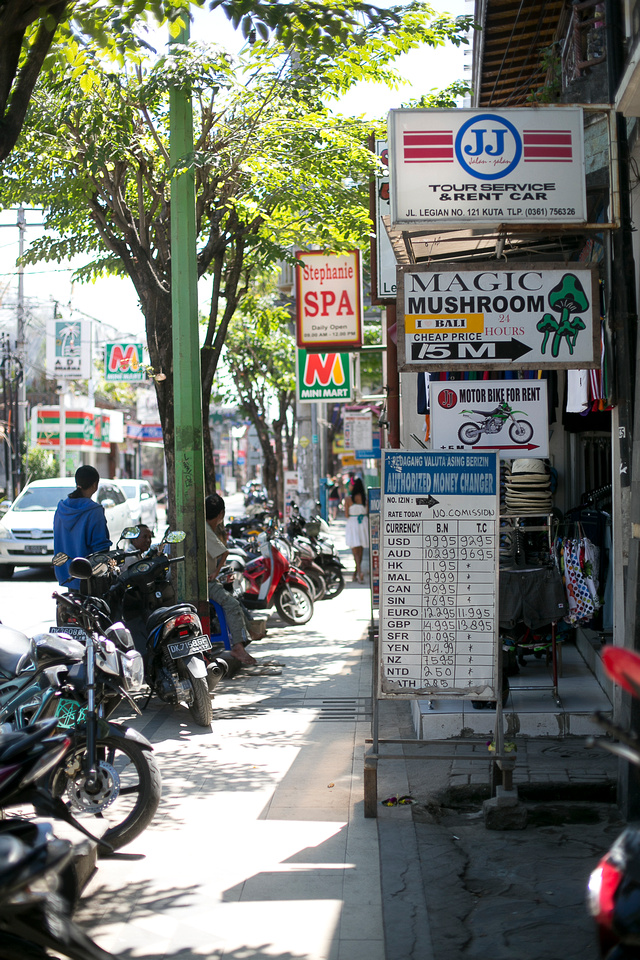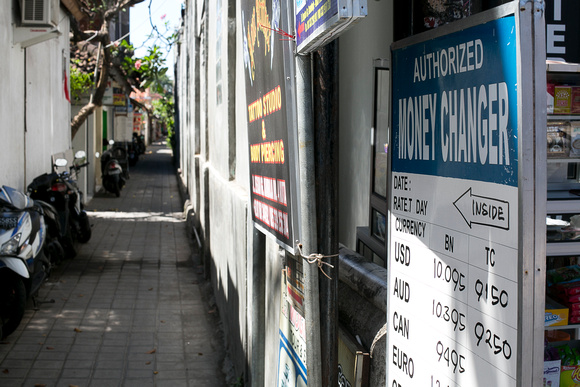 You will be walking along the path and you will come across a whiteboard displaying the rates. You should be aware that when they write it on the whiteboard it isn't as official as one that is being updated by an authorised exchanged-monitor. Oh also, don't let the fact that when they display "Authorised Money Changer" on their board, All money changers say that.....
They often have their shops hidden away from the main streets. There shops will be about 20 meters from the main road. The 2nd image above is obviously taken during broad daylight... You can image it to be worse later in the dark. This alone should send warning signals to you.
Local tour guides have told me stories about how these traders trick the naive traveller. You will notice the rates on the whiteboard to be very attractive. (Much better rates than the official changers) they do this to lure the traveller towards their shop, Making them walk the extra distance.
They will calculate the money with their intended rate, and they may even use 'real money' in exchange. However, these sneaky traders are often crafty with their sleight of hand, they are often quick to sift through the money and can sometimes undercut you for the amount they give. They may calculate say $100 worth of money, but really their fingers slide the money away whilst counting, and can leave you with only about $80 worth of money. (You've been cheated for $20). I wonder sometimes, why are they in such a hurry to count and sift through the money, they do literally have ALL DAY.
4: How to select a TAXI
There are many types of taxis in Bali, and they all look very much the same. The good ones are those with a meter installed that is clearly visible to the passenger. There are taxis there that have tiny meters that are probably fake and do not function properly. The reliable company of taxi is known as "BLUE BIRD TAXI' they can be recognised from their labels displayed on the front windscreen.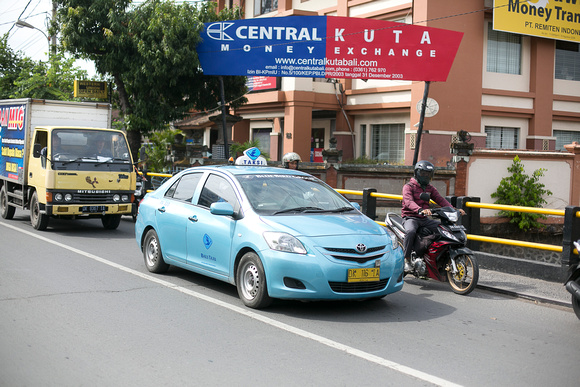 Be mindful that the other taxis look very similar they even have the same blue bird logo on their taxi signs and the cars are of similar colour, below is an example of a non-blue bird taxi. Notice the similarities. I'm not saying to Avoid these taxis altogether. I'm just letting you know that you have to negotiate at price for their service. Sometimes you can be overpriced. If you know where you are going, and know how much the cost should be, and you get a similar price. Then its all good.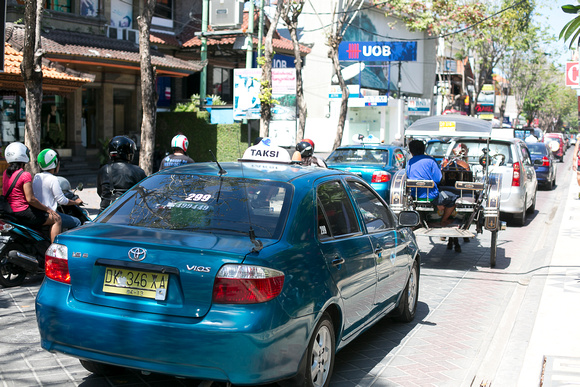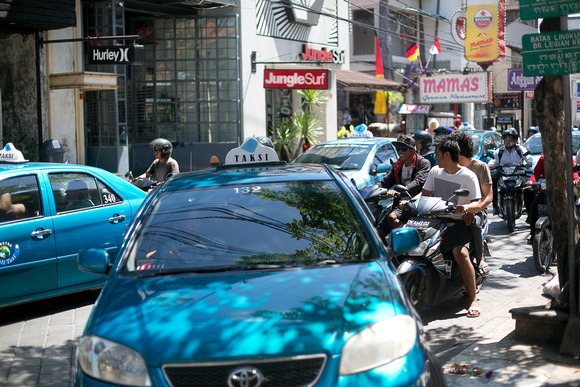 5 Avoid Street Food
Foreigners should avoid eating the foods that are found on the back of bicycles and being sold on the side of the street. These foods are commonly associated with the Bali-belly, which sends travellers to more trips to the toilet than what is normally comfortable. Its to do with their hygiene standards and cleanliness of the foods. The locals can handle this food without a problem. Its best to seek food from hospitality outlets such as cafes, bars, restaurants and hotels. After all its all very cheap.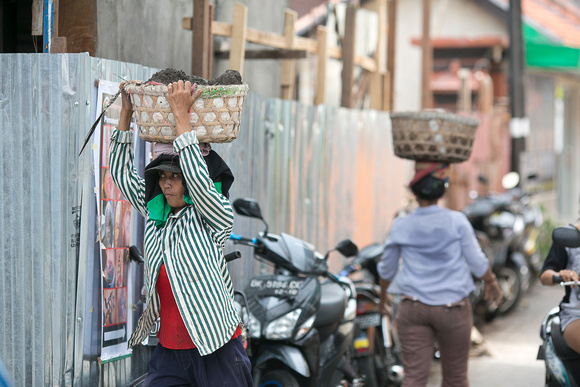 6: Drink bottled water only
In my hotel there were labels on the bathroom saying, Not suitable for drinking. The water in Bali have a funny smell to it and should not be drunk as water, I wouldn't even try purifying it with boiling. Just stay safe and drink water from secured bottles. They are cheap and readily available.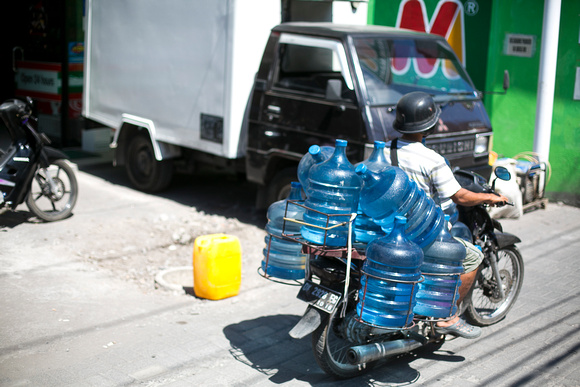 7: Where to Stay
If your interested in entertainment, street side shopping, night life and restaurants then Kuta and Legian is your best bet. This place usually operates from 10am and stays open to 3am in some places. There are plenty of Hotels and the beach is about 15 minutes walking time away.
If you don't like crowded areas and want to do lots of tours and culture events. Then Kuta is NOT for you. Mainly because getting in and out of Kuta can be very sluggish on the traffic. During peak periods it can take up to 1 hour just to leave the very small Kuta area.
For a local culture experience, Ubud is a good area to be in. If you like water-activities then Nusa Dua is good. A good balance of ease of access and amenities Seminyak is a good choice. Don't be discouraged about the distance from suburbs, they are all relatively close by and easily accessible via taxi. So long as you don't have to go thru Kuta, everything is fine and close together. Within 30minutes driving.