This is a useful blog for anyone who is thinking of travelling to Bali for the first time, The topics that will be discussed are as followed:
1: Visa
2: Changing money to IDR
3: Changing money in Kuta
4: Taxi
5: Avoid street food
6: Drink Bottled water
7: Where to stay
8: Personal Driver
1: VISA
If you are travelling from Australia, be aware that VISA is required for entering and exiting Bali (2012). The visa cost me US$30 to enter and US$30 to exit Bali. The VISA can be purchased as you pass through Immigration at the airport. They have currency converters there so you need not have to worry about exchanging your money prior to entering Bali
2: Changing money to IDR at the Airport?
Every time I enter a foreign country, money exchange is always a big thing for me. I always want to know the most efficient and safest way to exchange my currency.
You will not be short of money changers in Bali. Just after you have collected your luggage you will be greated with a HALLWAY lined up with money Changers. I didn't count them, but I think there was about 30 stores adjacent to one another. I guarantee that you will not miss it. There will be traders shouting, calling, trying to pull you into to change your money. It can be a little bit of a culture shock if you are not prepared for it. I'd be weary changing large sums of cash with these exchanges, because the airport can be crowded with people. At the time I did change about AU$200 at first. Now coming to think about it, that was EXCESSIVE. If I had known, I would have only exchanged about AU$50. Just enough to comfortably get me on a taxi to my hotel in Kuta. The Taxi ride to KUTA was about AU$10 and the time can vary from 15 minutes to 45 minutes depending on the traffic. The rates are better outside of the airport.
3: Money Changing in Kuta
There are many money changers in Kuta. I was told from friendly local tour guides that there are good places and not so good places. The good places are the banks, and the money changers with a dedicated shop front or 'building.' below is a photograph of a 'GOOD' money changer.
This exchange in somewhere near the middle of Jalan Legian (Main street of KUTA). You see what I mean by having a store front. This is a dedicated money exchange shop, it has a main door and its sole business is to exchange foreign currency. They will have monitors in the store and you can see them exchange the money, SLOWLY. By having a door behind you it also makes me as a traveller feel more safe with putting my money away.
Now for the not so good money exchangers. I'll refer them to 'RISKY' exchangers and should be AVOIDED. First take a look at the images below.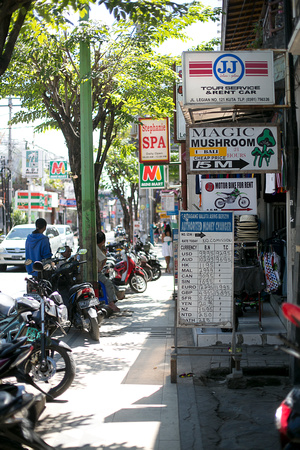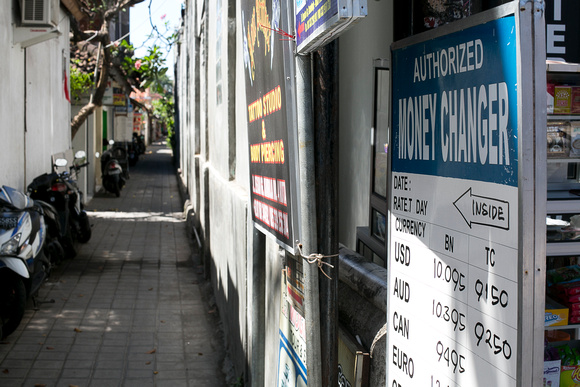 You will be walking along the path and you will come across a whiteboard displaying the rates. You should be aware that when they write it on the whiteboard it isn't as official as one that is being updated by an authorised exchanged-monitor. Also, don't let the fact that when they display "Authorised Money Changer" as an assurance that it is genuine, All money changers say that.....
They often have their shops hidden away from the main streets. Their shops will be about 20 meters from the main road. The 2nd image above is obviously taken during broad daylight... You can image it to be worse later in the dark. This alone should send warning signals to you.
Local tour guides have told me stories about how these traders trick the naive traveller. You will notice the rates on the whiteboard to be very attractive. (Much better rates than the official changers) they do this to lure the traveller towards their shop, Making them walk the extra distance.
They will calculate the money with their intended rate, and they may even use 'real money' in exchange. However, these sneaky traders are often crafty with their sleight of hand, they are often quick to sift through the money and can sometimes undercut you for the amount they give. They may calculate say $100 worth of money, but really their fingers slide the money away whilst counting, and can leave you with only about $80 worth of money. (You've been cheated for $20). I wonder sometimes, why they have to be in such a hurry to count and sift through the money, they do literally have ALL DAY with nothing else to do.
4: How to select a TAXI
There are many types of taxis in Bali, and they all look very much the same. The good ones are those with a meter installed that is clearly visible to the passenger. There are taxis there that have tiny meters that are probably fake and do not function properly. The reliable company of taxi is known as "BLUE BIRD TAXI' they can be recognised from their labels displayed on the front windscreen.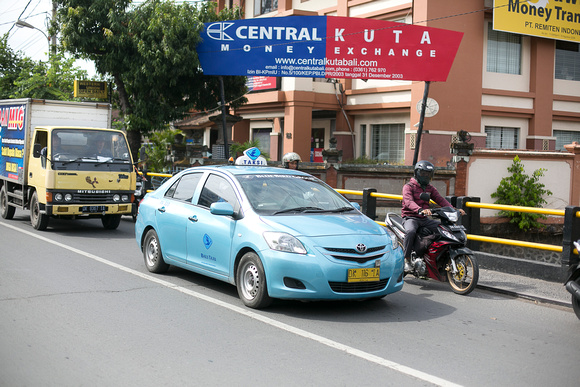 Be mindful that the other taxis look very similar they even have the same blue bird logo on their taxi signs and the cars are of similar colour, below is an example of a non-blue bird taxi. Notice the similarities. I'm not saying to Avoid these taxis altogether. I'm just letting you know that you have to negotiate at price for their service. Sometimes you can be overpriced. If you know where you are going, and know how much the cost should be, and you get a similar price. Then its all good.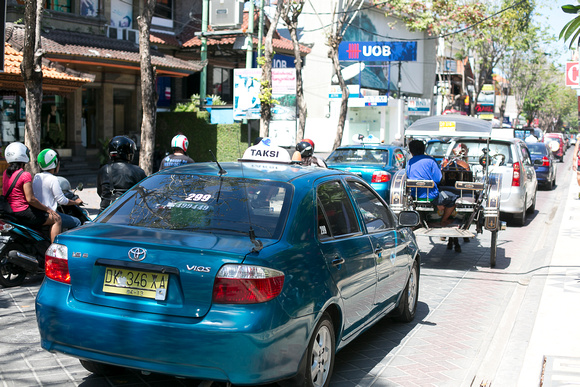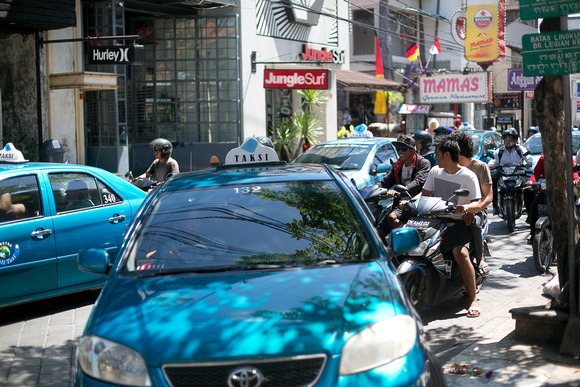 5 Avoid Street Food
Foreigners should avoid eating the foods that are found on the back of bicycles and being sold on the side of the street. These foods are commonly associated with the Bali-belly, which sends travellers to more trips to the toilet than what is normally comfortable. Its to do with their hygiene standards and cleanliness of the foods. The locals can handle this food without a problem. Its best to seek food from hospitality outlets such as cafes, bars, restaurants and hotels. After all its all very cheap.
6: Drink bottled water only
In my hotel there were labels on the bathroom saying, Not suitable for drinking. The water in Bali have a funny smell to it and should not be drunk as water, I wouldn't even try purifying it with boiling. Just stay safe and drink water from secured bottles. They are cheap and readily available.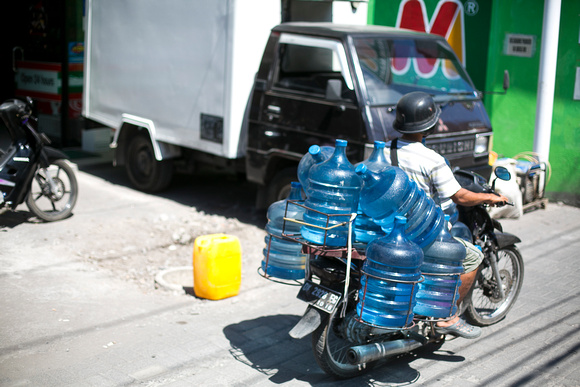 7: Where to Stay
If your interested in entertainment, street side shopping, night life and restaurants then Kuta and Legian is your best bet. This place usually operates from 10am and stays open to 3am in some places. There are plenty of Hotels and the beach is about 15 minutes walking time away.
If you don't like crowded areas and want to do lots of tours and culture events. Then Kuta is NOT for you. Mainly because getting in and out of Kuta can be very sluggish on the traffic. During peak periods it can take up to 1 hour just to leave the very small Kuta area.
For a local culture experience, Ubud is a good area to be in. If you like water-activities then Nusa Dua is good. A good balance of ease of access and amenities Seminyak is a good choice. Don't be discouraged about the distance from suburbs, they are all relatively close by and easily accessible via taxi. So long as you don't have to go thru Kuta, everything is fine and close together. Within 30minutes driving.
8: Personal Driver
I highly recommend hiring a driver at least once during your trip. You can hire them by the a set number of hours and you pay them before you embark. I think it cost me IDR350 000 for 5 hours. You can divide that number if you are travelling as a group. The drivers I had were great, they were all friendly, they also doubled up as your tour guides and are super patient. If you want to go to a park or eat somewhere, they are happy to stay and wait for you till you are done (so long as its within the hours paid) they won't fuss. They can go just about anywhere in Bali and they are usually very knowledgeable of the area.