In this post, I will write about my experience on hiring a camper van for traveling around New Zealand. First I will talk about my experience I had. If you want a quick trailer and review what the experience was, just watch the video below.
Elaine, my girlfriend and I went on a Camper van trip around the South Island of New Zealand in May 2016, we hired a 2 berth(person) van for the duration of 9 nights. Overall the experience was FANTASTIC, I loved it so much and can't wait to do another camper van trip again. I highly recommend it to anyone who enjoys immersing themselves into a country and want the freedom to be and go where ever they wish.
We booked our camper van at our local travel agent Flight Centre here in a small suburb of Yamanto Queensland, near city of Brisbane. I combined it with flights and travel insurance. The camper van we chose was the Britz Venturer - 2 berth Automatic. At the time of it costed me a total of AU$918. This price included the No-excess insurance.
The no-excess liability was huge, it is optional, without it the rental company will hold onto NZ$7500 on your credit card for the duration of your rental period. That was massive and I didn't want to take that risk. I think the price would have come down by about AU$40 per night of hire. This package also includes small little things like, 1GB of WIFI in your Camper van, 2 Picnic chairs and table, Snow-tracks for wheels - we didn't have to use it, but apparently you need to have it with you if you are traveling to Milford Sound during the colder months, some tickets for the driver to see glow worms somewhere (we didn't even use this) , A toll free number to call if you need road side assistance.
Although my travel insurance that I purchased separately, covered up to AU$10 000 of damage, I would have been covered even through an event of a negative mishap. I just didn't want to take the risk. I didn't fancy the idea of the Rental, Securing NZ$7500 during my trip. That was a lot of money for me. Also take into consideration that I used my credit card for about 90% of our purchases during the trip. For peace of mind, I just paid it.
In our experience, Elaine and I managed to clock up 2222km in 9 nights. We drove from: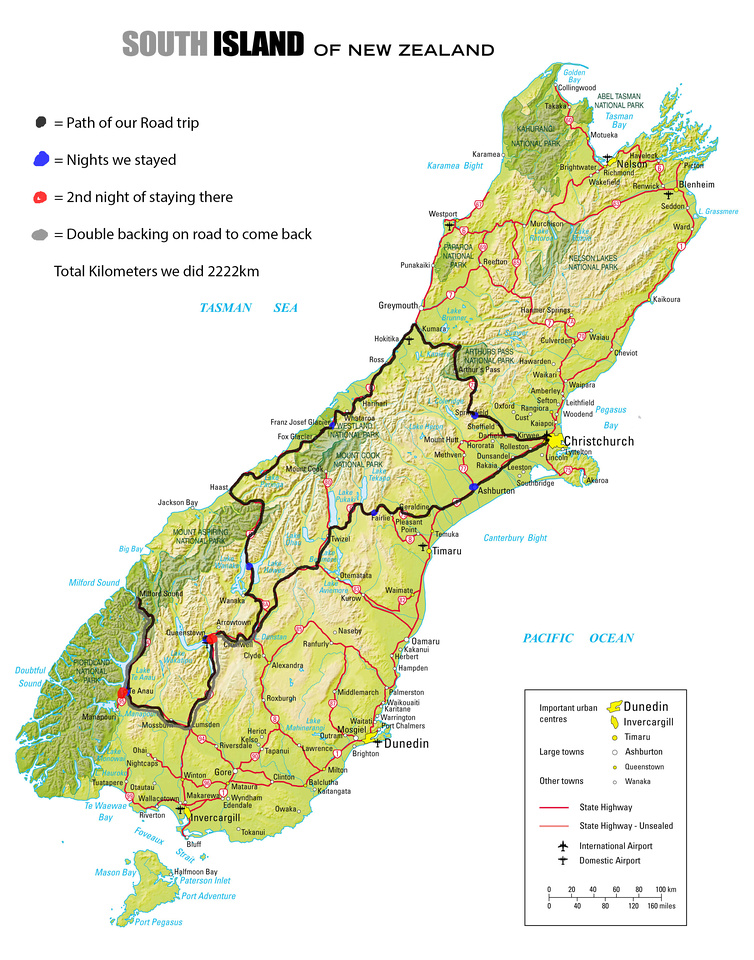 (SH) = State Highway
-Christchurch, along SH73 stoping at Lake Pearson Muana campsite towards Greymouth.
-SH6 Along Hokitika towards Franz Josef Glacier.
-Continued on SH6, passing through Haast and the Mount Aspiring National park towards Lake Wanaka.
-Rested in Wanaka and continued on SH6 towards Queenstown (Campers are not allowed through Crown's Ridge) to Queenstown via Wanaka.
-Queenstown along road 96 and SH94 to Te Anau.
-We stayed at the location of Te Anau Lakeside Holiday park, for two nights. The following day after our arrival we went on the Traveled to Milford Sound along SH94, and took the cruise to visit Milford Sound. After the day in Milford Sound we made our way back to the same camp site.
-After Te Anau, we travelled back towards Queenstown along the same road of SH94 and 96.
-After the rest stop at Queenstown at the Top 10 Holiday Park, we traveled up towards Coronet peak because it was like 15 minutes away and along the way back out of Queenstown towards Mount Cook and Lake Tekapo on SH6 and SH8.
-We actually stayed at Lake Alexandrina which was about 15 minutes, 10km drive back from Lake Tekapo.
-Early in the morning we had to back-track about 45km back towards Lake Pukaki to get photos of Mount Cook because the day before was Raining and the weather was MISERABLE!!!! - we couldn't see anything, it was so sad.
-After the morning at Lake Pukaki we drove towards Lake Tekapo and stayed there till around lunch time.
-After Lake Tekapo we were starting to make our way back towards Christchurch. I didn't have any more photo assignments that I wanted to take along this route, We wanted to stay at Rakaia George for a unpowered but hot showered site, but unfortunately when we arrived we realised that hot showers were not available from the colder months of May-October. We ended up driving back towards Ashburton and picked a random powered campsite to stay.
- After Ashburton, we started packing our camper van, filled up the gas bottle and gas tank, and made our way back towards Christchurch.
- We arrived at Christchurch at around 1430 hours, with no problems at all :)
How to collect the camper after Arrival
I must admit i was a bit lost when it came to this process as this was the first time I took a rental car from entering a foreign country. Fortunately for yourself, you have my blog to read and the process after doing it once is quite simple. Now we arrived at Christchurch International Airport, So the instruction I will be specific for just this Airport and Britz Camper company, however, I believe whether you hired a Britz, Jucy, Maui and maybe some others, it will be about 95% the same, the only difference is that you will dial a different number on the phone to let them know you are ready for a shuttle ride to the rental company.
- Upon picking up your luggage and walking out the arrival section. You will be required to go to the freely provided phones which is located next to Isite and about 50m away from the arrival gate you just came out of. it was behind the Information desk. here is a photograph taken for your convenience and ease (GOSH I had this information prior to my trip, because i was running around for 15 minutes looking for this silly phone,unnecessary stress and slight jet-lagged).
For our Britz Camper van. i had to dial 61. on the phone and speak to the operator there, and tell them my name and that i needed a shuttle from the airport to the rental company.
I was instructed to go to the coaches and rental car area, which is a heading of left, from the arrival gate. I had to pass a coffee shop and a Travelex Money Exchange area, towards the outside where buses were.
Here there were drivers calling out, shuttle to Rental companies.. and all we had to do was wait for someone to say, travel to Britz rentals.. but like i said, Britz, Maui and Jucy were all from the same company, they go to the same location.
We loaded our luggage into the shuttle and made our way to the rental company, i was like a 5 minute ride.
Once we arrived at the rental company everything was pretty straight forward. we unloaded our luggage, and set it aside, went to the counter with our rental documents and spoke to the agent. After filling a bit of paperwork we were shortly told which bay our camper was parked in.. We were able to take our luggage there and started loading if we wanted. We were told not to start the van because it was still plugged into the power point to await an agent who was going to give us the tour on how everything worked.
At this point it was very exciting as we would see all the campers parked along sided by side…. and we were getting towards our own.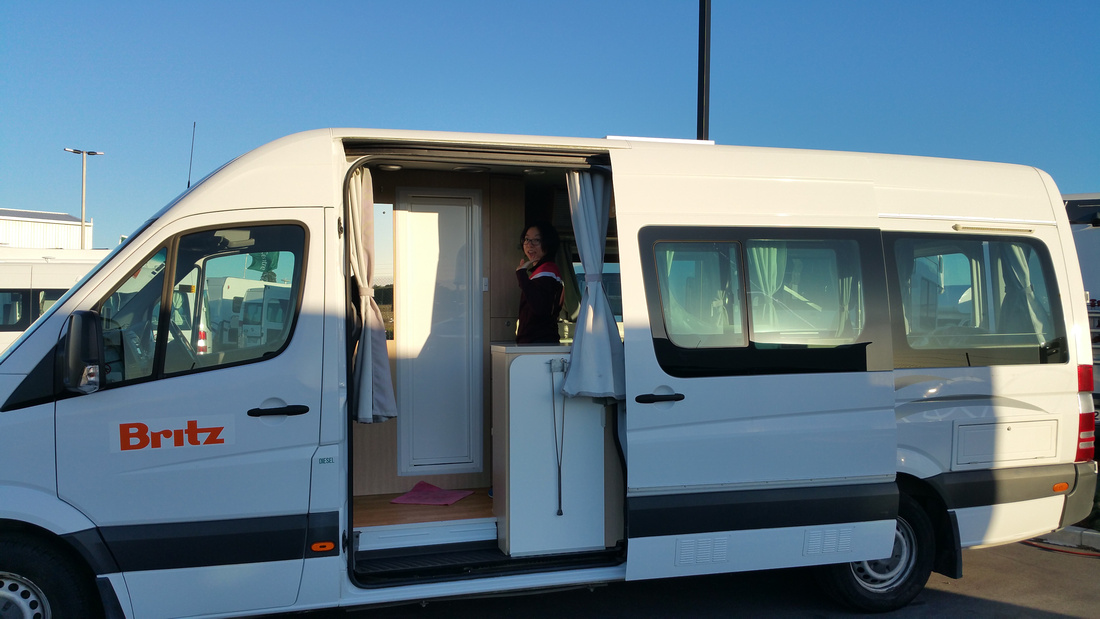 One word of advice about luggage, I should have mentioned this above somewhere I think…. Pack your items in SOFT case bags.. Avoid using hard case suitcases.. Simply because there is very LITTLE amount of room inside the van. Soft cases can be unpacked and scrunched up and stowed away easily in one of the compartments. If you had a hard case suitcase… It would be Hell to put away. Especially if you are going with more than 2 people.. they would just be lying around and be in your WAY for the rest of your trip. Elaine and I carried all our equipment in backpacks and large dive bags.
Once we finished the tour and tutorial from the agent on the operations of the camper van we were free to disembark on our journey. We were told all we had to do was to be back by 1630 on the drop off day, and we were also told that camper vans are not allowed to travel on Crowns Ridge from Wanaka to Queenstown. Apparently it a very steep and windy road. It is supposably meant to be a shorter route, but its arguably faster than the alternative route that we did.
It took us about 45 minutes to unpack everything and get things set up. The first thing we did was unload all our luggage and place them into the storage compartments. Once that was done we were able to scruch up the dive bags, and put them into the larger storage areas which was under the cushions. Having the soft dive bags, means we didn't have to fuss with them for the rest of the trip.
Our first destination was for grocery shopping. That was easily found by going to Countdown, which was only like 5 minutes away. We started first by having dinner because we were so hungry after the flight. We went to the Indian restaurant that was there. The food and service there was quite good and pleasant. After dinner we went to Countdown to do the grocery shopping.
After grocery shopping and loading the camper van with all our newly bought supplies.. The feeling of holiday was really starting to kick in and the excitement was starting to flow. We entered our first destination on our GPS as, Lake Pearson, Muana Campsite. That trip was about 120km away, and it took us just under 2 hours to get there.